Image Main For Publication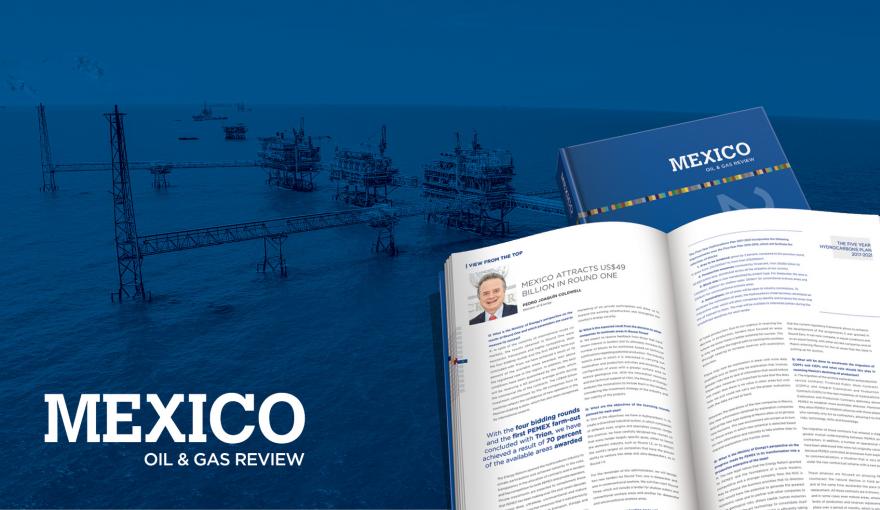 Issue Iframe
Mexico Oil & Gas Review 2019/20
Main Description
Mexico Oil & Gas Review is your entrance into the ranks of the elite of Mexico's oil and gas industry. Take advantage of this opportunity to get inside the minds of the leaders who are shaping this strategic sector, including top decision-makers and regulators, such as the Ministry of Energy, CNH and CRE, key management voices at PEMEX, NOCs and IOCs, in addition to leading national and international suppliers and service providers. Mexico's oil and gas community at your fingertips.
Second Block Description
HOW WE DO IT:
Cutting-edge information based on more than 180 interviews with the most influential business leaders in the Mexican oil and gas industry, the country's political leaders and key policymakers

Dedicated editorial team with experience covering Mexico's oil and gas industry and in-depth understanding of global trends, technological advances and international best practices

Uniquely customized readership that ensures unprecedented reach among key decision-makers in Mexico and around the world
Third Block Description
Mexico Oil & Gas Review 2019/20 is published in a very different market environment to its predecessor. Since the launch of the previous edition, a change in government has set Mexico's oil and gas industry on a new course that is still to be wholly defined. Suspended bidding rounds and public criticism have given concern to privates while block operators have quietly pressed on. If the buzzword in 2018 was continuity, the industry's mantra in 2019/20 is cautious optimism.
President Andrés Manual López Obrador has placed his bets firmly on the country's oil and gas industry with the revitalization of PEMEX his principal target. From the refinancing of the NOC's significant debt to the funding of a mega-refinery in Dos Bocas, the president is reviving the NOC to help it recover former glories. The heavy financial commitments to back the development of 23 new fields toward 2023 and further exploration to replenish falling 3P stocks into the long term has given shape to the administration's national economic strategy.
Eyes are firmly fixed on PEMEX and its leading role in the 2.6MMb/d production target for 2024. Since the last publication, privates have made headway in their commitments to contracts won in earlier rounds. Onshore privates are already producing, while Eni became the first private to produce offshore since the Energy
Reform began. In 2020, more companies will follow. Further along the value chain, the construction of storage terminals, long-distance pipelines and gas stations have
driven the year's private sector construction activities, although issues including social unrest, land ownership disputes and "leonine" contracts have provided challenges. An eventful 2019 has continued into 2020. Mexico Oil & Gas Review charts the industry's journey from the end of 2018 into the new decade and covers all the twists along the way.