Image Main For Publication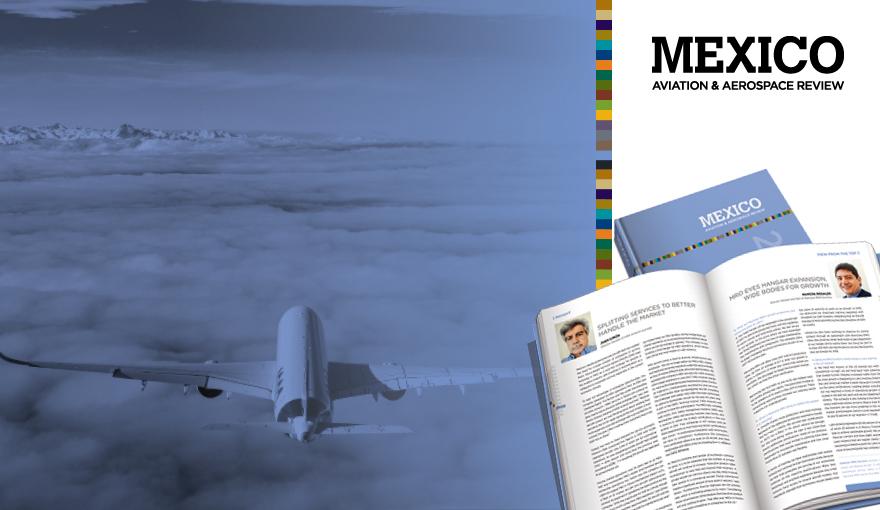 Main Description
DEDICATED AND COMPREHENSIVE COMMUNICATION PLATFORM
Mexico Aviation and Aerospace Review provides a comprehensive overview of the latest developments, industry trends, business strategies, operational challenges, and technological advancements in the Mexican aviation and aerospace industry. Our analysis is based on a mix of interviews with the key stakeholders shaping the industry in Mexico from a business, political, legal and regulatory perspective, and the latest industry facts and figures. Moreover, we match Mexico's main operational and technical challenges with international best practices and proven technologies. Utilizing today's most impactful business intelligence platforms – print, digital and iPad – Mexico Aviation and Aerospace Review will reach the key players in the aerospace industry as well as industry executives around the world. Mexico Aviation and Aerospace Review is the voice of the Mexican aviation industry and aerospace sector, and serves as a catalyst for growth by accelerating the exchange of essential industry information.
Second Block Description
THIS IS HOW WE DO IT
Cutting-edge information editorial based on interview with the most influential business leaders in the Mexican aerospace industry, and the country's political leaders and key policy makers.
Dedicated editorial team combining broad experience in covering Mexico's aviation and aerospace industry with in-depth understanding of global trends, technological advances and international best practices.
Editorial cooperation with the leading voices of the Mexican aerospace industry
Our uniquely customized readership ensures unprecedented reach among key decision makers in Mexico and around the world.
Available on today's most impactful business intelligence platforms: Print, digital and iPad
Third Block Description
MEXICO'S AEROSPACE INDUSTRY ON THE RISE
Mexico possesses a highly skilled labor force, the cost of which is extremely competitive when judged against comparable countries with similar skills bases. Mexican manufacturers produce an array of aerospace parts, from electronic panels to partially assembled engines for leading global OEMs, such as Bombardier, Boeing and Honeywell. Being part of NAFTA region as well as enjoying proximity to the Brazilian market, foreign direct investment (FDI) in the aerospace sector has risen to reflect this. In 2010 FDA was recorded at US$1.2 billion and by 2016 it is projected to reach $1.4 billion. This level of investment has attracted over 300 companies to construct manufacturing facilities in Mexico, such that engineering graduates multiply every year to keep up to speed with this unprecedented growth and interest in the aerospace clusters.
The Mexican government is also investing heavily in targeted university programs and training schools, many of which are unique to Mexico. By the end of 2012, the country had produced more engineers per capita than Germany, and continues training plant workers and managers. The aerospace-centered colleges aim to also produce designers in a near future in preparation for its rise as the newest center of globalization.
Mexico is destined to strengthen its position as a key player in the global aerospace supply chain based on its competitiveness as a manufacturing platform, preferential access to markets in 44 countries across three continents, a highly skilled workforce, and a stable economic and political environment. According to Aerospace Meetings Guadalajara, the industry has grown 20% annually since 2004. In fact, Mexican aerospace exports were at a value of US$4.3 billion in 2011, representing 40% growth in the previous four years. Moreover, in the face of both increasing domestic demand and export volume, forecasters now predict that the industry's exports will be valued at US$12 billion by 2020.
MEXICO AVIATION AND AEROSPACE REVIEW IS THE INDUSTRY'S PREFERRED INFORMATION PLATFORM!
Image highlights